Dr. O.A. Oni
---
DEPARTMENT OF AGRICULTURAL ECONOMICS
Personal Profile Page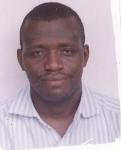 Dr. Omobowale Oni holds a PhD in Agricultural Economics from the University of Ibadan. He has to his credit 13 published journal articles, four chapters in books, five technical reports, and four conference proceedings. Four of the published journal articles were published in international journals outside Nigeria.
Dr. Oni has won several research grants. Two of the recent research grants recently won by him include the African Economic Research Consortium Grant 2005 and the Francis Idachaba Foundation for Research and Scholarship grant 2005. Dr. Oni has presented several papers in local and international workshops and conferences. His two most recent presentations took place in Nairobi at the African Economic Research Consortium workshop in 2006 and the Center for African Economics Conference (2007) held at the University of Oxford, United Kingdom.
Dr. Oni has in recent time served has consultant to so many International agencies such as the World Bank and the UNDP. He is presently a Reader and also teaches at the undergraduate and postgraduate classes in the Department of Agricultural Economics. He is a member of International and Local Associations including the International Association Agricultural Economists (IAAE), African Association of Agricultural Economists (AAAE), Nigerian Association of Agricultural Economics (NAAE).
His area of research interest includes welfare economic and food policy analysis issues.
He is happily married with children.