History
The idea of establishing a Faculty of Agriculture dates back to 1947 when four disciplines (Arts, Science, Medicine, and Agriculture) were incorporated unto then Yaba Higher College that transformed to the University College and was moved to Ibadan. While the faculties of Arts, Science and Medicine took off in 1948, the Faculty of Agriculture took off in 1949 with Mr. W. H. Baker, formerly an officer of the Nigerian Government Department of Agriculture, as its Professor and Dean of Faculty. Nine other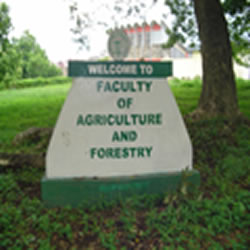 staff assumed duty in 1951/52 academic session. They were Dr. J. C. Sawyer (Agricultural Botany), Dr. K. Ebes (Tropical Agriculture) Mr. G. H. Casmell (Agricultural Entomology), Mr. R. M. Jackson (Plant Pathology), Dr. V. A. Oyenuga (Animal Nutrition), Mr. M. Miliken (Agricultural Economics), Mr. P. H. Nye (Soil Science), Mr. J. O. Fatimehin (Demonstrator in Soil Science) and Mr. M. C. Hatterly (Farm Manager). Mr. P. H. Nye left the University in 1957 and was immediately replaced by Dr. (Mrs.) Elizabeth Alexander. With this modest assembly of 10 staff (8 Lecturers, 1 Farm Manager and 1 Demonstrator) academic activities started in 1951/52 with only one student, Mr. Joseph Akinwolemiwa, who graduated in June 1953. He was followed by 4, 3, 4, 6, 8, 10, 11, 7, 9, and 14 in 1954, 1955, 1956, 1957 1958, 1959, 1960, 1961, 1962 and 1963 respectively. The cumulative students enrolment as at 1997 was 5,209. Although the Faculty started teaching in 1950 with only one student and ten academic/technical staff, today in spite of difficulties, there are over 1,200 students and 128 members of academic staff consisting of Professors, Senior Lecturers, Lecturers and Assistant Lecturers.The honors course in Agriculture was introduced in 1958/59, and the June 1960 students were the first graduate with the honors classification. From 1948 to 1963 the University awarded degrees of the University of London under a scheme of special relationship. However, in 1963 the University received it own charter and became autonomous as the University of Ibadan and started to award its own degrees.
In 1962, the one-department Faculty was split into four departments of Agriculture, Agricultural Chemistry and Soils, Agricultural Biology and Agricultural Organization, under the headship of:Professor A.N.A. Modebe

Agricultural Chemistry and Soil

Agricultural Organization

Professor H.A. Oluwasanmi
In 1966-67 the four departments were reorganized and respectively renamed Agronomy, Animal Science, Agricultural Biology and Agricultural Economics and Extension. In 1995 the Agricultural Biology was renamed Crop Protection and Environmental Biology to reflect the multi-disciplinary nature of the department.In 1963, the faculty assumed the new name Faculty of Agriculture, Forestry and Veterinary Science with the addition of four other departments to its programme. These were departments of Forestry, Veterinary Anatomy and Physiology, Veterinary Medicine and Surgery and Veterinary Pathology. All the Veterinary Science programmes moved out to form a new Faculty of Veterinary Medicine in 1975 and the faculty adopted the present name, the Faculty of Agriculture and Forestry. In 1975/76 session the department of Agricultural Extension Services was created out of the Department of Agricultural Economics and Extension. To reflect the totality of its various extension, training, communication and rural sociology activities the department was re-named Department of Agricultural Extension and Rural Development in 2000/2001 academic sessions. In 1981/82 session the Department of Wildlife and Fisheries Management was created out the Department of Forest Resources Management.Consequent upon the series of reorganization from 1966/67 up till late 1980s the faculty has awarded B.Sc (Agric) with Honours in 12 degree options which included Agricultural Economics, Agricultural Extension Services, Crop Science, Soil Science, Horticulture, Animal Science, Agricultural Biochemistry and Nutrition, Crop Protection, Crop Improvement, Forest Resources Management, Fisheries Management and Wildlife Management. However, with the recent reorganization and in accordance with the National University Commission (NUC) recommendation for 5 – year programmes that have practical of 12 months duration, the degree nomenclature for the 10 new options in the 7 departments are:
| | |
| --- | --- |
| | |
| | B. Agric. (Honours) in Agricultural Economics |
| Agricultural Extension and Rural Development | B. Agric. (Honours) in Agricultural Extension and Rural Development |
| | B. Agric. (Honours) in Agronomy & Horticulture |
| | B. Agric. (Honours) in Animal Science B. Agric. (Honours) in Agricultural Biochemistry & Nutrition |
| Crop Protection and Environmental Biology | B. Agric. (Honours) in Crop Protection B. Agric. (Honours) in Crop Improvement |
| Forest Resources Management | B. Forest Resources Management (Honours) |
| Wildlife and Fisheries Management | B. Fisheries Management (Honours)B. Wildlife Management (Honours) |
Postgraduate courses leading to the degrees of M.Sc., M.Phil and Ph.D. were introduced in the various departments of the Faculty in 1960 and later Diploma and Certificate courses both at the postgraduate and Sub-Degree levels were offered in Agricultural Extension and a various aspects of tropical agriculture and forestry. Many of the students that have graduated from the Faculty hold responsible positions in commercial firms and public services of the Federation of Nigeria and in other countries of West Africa, as Agricultural Officers, Specialist Research Officers, Extension Services Officers, Directors of Research Institutes, Conservators of Forests, National Parks and Zoos, University Professors, Lecturers, Quarantine officer, Bankers, Accountants, etc.